When the Kingdom of Saudi Arabia marked its 92nd National Day on September 23 2022, the three-day celebrations were held for the first time ever in the decentralised metaverse. The immersive experience honoured Saudi Arabia's intriguing culture and history in line with Saudi Crown Prince Mohamed Bin Salman's strategy to modernise the country for the era "after oil".
Known as "MBS", the de-facto ruler wants to show the world on a daily basis that his transformational masterplan Vision 2030 is a one-way street to success.
Cargo ports in Jeddah and airports in Riyadh get a massively expanded, and new tourist facilities in the desert oasis of Al Ula and the Red Sea coast are mushrooming.
While most economies across the globe suffer from a rise in inflation, soaring energy prices, and rising debt levels amid geopolitical uncertainties, the Kingdom of Saudi Arabia has been recording an unprecedented economic boom in 2022 amid robust GDP growth. Both the oil and non-oil sector fuel the new prosperity in the kingdom while inflation remains moderate.
According to the International Monetary Fund (IMF), the real-GDP growth of Saudi Arabia "was robust at 3.2 percent in 2021, in particular, driven by a rebounding non-oil sector (…) and is expected to increase significantly to 7.6 percent in 2022." The jump in growth occurs despite monetary policy tightening and fiscal consolidation and higher employment for Saudi nationals, particularly women, noted the IMF.
Experts agree that the royal masterplan Vision 2030, launched a few years ago, aiming at transforming the sole Arab member state of the G20 into a diversified economy not reliant on oil only, bears fruit:
U. S. rating agency S&P Global Ratings said in an assessment the Saudi Economy was currently witnessing its best year since 2010. In addition, on Sept. 16, 2022, S&P Global Ratings affirmed its 'A-/A-2' unsolicited long- and short-term foreign and local currency sovereign credit ratings on Saudi Arabia. The outlook remains positive, said S&P.
In Q1 2022, the royal investment ministry reported a 9.5% increase year on year in foreign direct investment (FDI) flows for Saudi Arabia. The FDI inflows were at 7.4 billion riyals (US$1.97 billion) in that period, Reuters reported.
The kingdom opened up further when this summer when it announced that all citizens of the GCC holding a valid residence visa are eligible to enter Saudi Arabia through an e-visa scheme. An 18 percent rise in GCC tourism was registered in early September following the move.
Amid rising optimism in Saudi Arabia and beyond, a flood of initial public offerings (IPOs) has evolved. In Q3 2022, seven Saudi stock listings have raised US$1.5bln.
With a total population of approximately 35 million, Saudi Arabia is the biggest member state of the GCC which also comprises its neighbouring monarchies Oman, UAE, Qatar, Bahrain, and Kuwait. The old formula "when Saudi booms, the GCC booms" remains valid until today as positive spill-over effects are seen in the aforementioned countries in a rising post-pandemic tourism flow of Saudis, ample investments, and surging demand in logistics and civil aviation.
Commercial ports in the UAE (such as Dubai's Jebel Ali or Abu Dhabi's KIZAD) and in Bahrain continue to play important role for the flow of goods into Saudi Arabia. While Riyadh has announced to expand its national carrier to play a global role, Dubai International Airport and Hama International in Doha, Qatar, remain crucial hubs for Saudi business and leisure travellers alike.
In fact, the price of oil (U. S. crude) literally increased from zero to 100 since the pandemic pulled the world economy in down in early 2020 as the black gold hovered around
From a standard economic textbook's point of view, the Saudi macro-economic case looks like a scenario from a distant world. Based on the bullish scenario, the government has announced scores of non-oil projects to accelerate the transformation from a hydro-carbon economy towards a well-diversified future industrial state in line with the royal masterplan Vision 2030.
A futuristic city named "The Line" is set to be built in NEOM (the name is an acronym consisting of Neo and mustaqbal (Arabic for "future"), the north-western US$500bln-Megacity project slated to occupy an area as large as Belgium.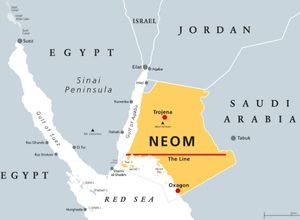 The King Abdullah Financial District, known as KAFD, has been rapidly attracted new financial firms and start-ups after the governmental complex in the capital Riyadh has lured Gauttam Sashittal as CEO, who once expanded the Dubai-based free zone DMCC to become the largest industrial free zone in the United Arab Emirates.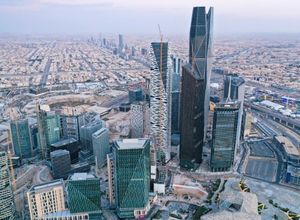 The Riyadh Metro is poised to transport the first passengers along the capital's notoriously congested Olaya Street by 2023.
However, challenges remain, such as female inclusion (albeit ample progress has been made in the field of women entrepreneurs), tackling youth unemployment, filling the rooms of newly established hotels (the French Louvre Hotel Group alone currently builds 31 resorts across the Gulf state), along with geopolitical uncertainties in the Middle East.
Download our below guide to learn more about Trade Credit Insurance and how it can help grow and protect your business.